Kanata Lakes
Kanata Lakes was our top pick for Best Places to live in Ottawa
The community of Kanata Lakes was first settled in the early 1900's by European settlers. In the 1960's the community was developed by Bill Teron around the Kanata Golf Course. English is the most popular language spoken at home with a small French speaking population and over 20% of residents speak a language other than French or English at home.
Housing Statistics
Oldest house: Built in 1974.
Average house age: Most houses were built between 1988 and 2003.
Detached homes: 53% of homes are detached. 47% are semi-detached and row houses.
House prices - detached homes*: Recent sales vary from $425,000 to $800,000 with 41% of homes under $500,000.
House prices - semi-detached homes and row houses*: Recent sales vary from $300,000 to $500,000 with 84% under $400,000.

Recreational Opportunities
There are many recreational opportunities for the residents of the community. Kanata Lakes has lots of parks and greenspace and baseball diamonds, basketball courts, outdoor rinks, play structures, a skateboard park, sports fields, tennis courts, a volleyball court, a sledding hill, and splash pads for young and old alike to enjoy. There are also bars and restaurants in the community for residents to enjoy. The community also has two golf courses, the
Kanata Golf and Country Club
and
Loch March
. The Centrum is a very popular strip mall and movie theatre that is part of the community.
Future Developments
Like most neighbourhoods in the city of Ottawa, Kanata Lakes has been affected by the Emerald Ash Borer. Currently the community is working with resident to either treat Ash trees with an insecticide or remove affected trees and replace them with new, healthy trees.
What we love about Kanata Lakes:
The community is home to the Kanata Centrum, a popular strip mall and movie theatre
The community is built around the Kanata Golf Course, one of two golf courses in the neighbourhood
Schools in Kanata Lakes:
Detailed information on Kanata School Zones
Churches in Kanata Lakes:
Where is Kanata Lakes?
Kanata Lakes is in Kanata.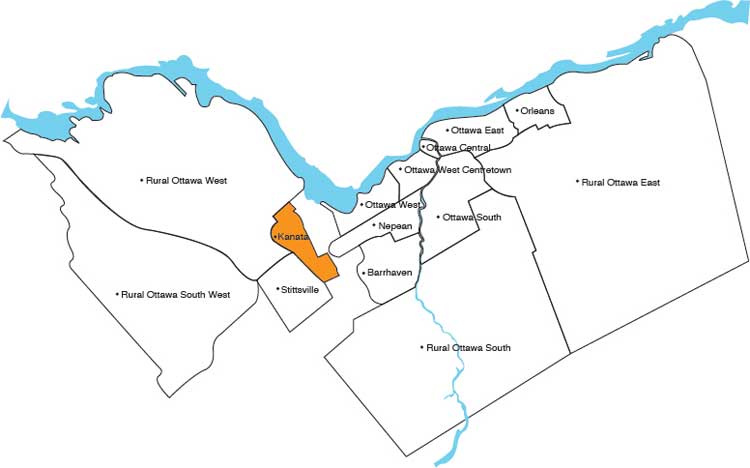 Here is a more detailed map of the area: