Ottawa Bus Information
Ottawa has a great transit system. The buses, run by OC Transpo will get you to most places in the city rather quickly. The main highway that runs East-West through Ottawa, (Highway 417), has an express route that allows only buses and cars with more than one occupant. This means that even during rush hour, the buses can usually get you where you want to go quickly.
Ottawa also has a light rail system, but it is only available in the South end. If you are traveling East - West (which is the most common route), buses will be your only public transportation option.
More information on Trains in Ottawa
Here is all that you need to know about Ottawa's buses.
Fare Information
How much does a bus ticket in Ottawa cost? Should you buy a regular pass? If you're looking for information, we've got you covered.
To ride on Ottawa's OC Transpo buses you can pay with cash, tickets, a day pass, a month pass, or something called PRESTO.
The following information applies to Adult and Student prices. For more information, including Senior and Child rates, see the OC Transpo Website.
Cost of a Regular Route Ride
Paying cash: $3.55
Using Tickets: Each ticket costs $1.60. A regular route is 2 tickets, so $3.20
You can also buy a day pass for $8.30 or a monthly* pass for $103.25. If you ride the bus twice a day, five days a week, a monthly pass will end up costing you approximately $2.60 per ride for an adult or $2.06 per ride for a student.
*Note: To get a monthly pass you need to get an OC Transpo ID card which costs $8.50 for adults and $6.50 for students.
Cost of Express Routes
Express routes run during rush hour on the weekdays from suburban communities to downtown and back.
Paying cash: $5.00
Using Tickets: 3 tickets which is the same as $4.80
Day pass: $8.30
Monthly pass (adult) - assuming 40 rides per month - $3.18
Monthly pass (student) - assuming 40 rides per month - $2.41
Presto Cards
Presto cards are a replacement for tickets and cash. You simply tap your card on the card reader when you get on the bus. While Presto cards don't save you money, they make it more convenient to ride the bus. They are easily topped up online. You can find more information on getting a Presto card here.
Student U-Passes
If you are a full time student at participating schools you can buy a U-Pass from your student association. The fee is $192.70 per term. More information here. These passes will also be offered in the summer as well2.
Routes
At first it can be a little confusing understanding Ottawa's Bus Routes. We've done our best here to outline the most useful information. We have found that there are two good ways to figure out your route.
Option #1 - The OC Transpo Trip Planner
You can use the OC Transpo Trip Planner to figure out which routes to take.
For example, let's say that I want to travel from the Eagleson Park and Ride (which is a very large lot in the West end of the city) to Bank and Slater (which is downtown Ottawa). We'll start by typing "Eagleson" into the trip planner:
Next, we'll choose the destination:
You can now choose what time you want to depart or arrive:
This is where we found things got confusing. It initially looks like OC Transpo is telling us we have to get on to two different buses, but these are actually two different choices that you have. Either of these routes will get us to our destination: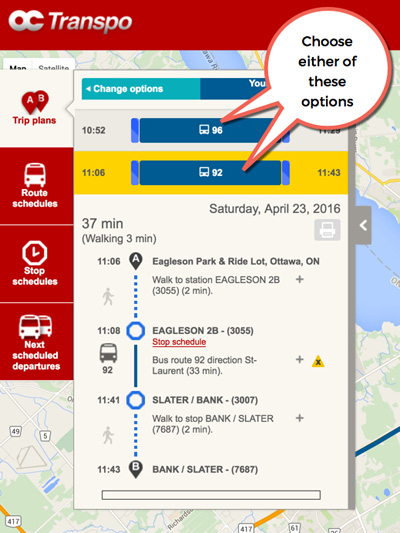 Option #2: Google Maps
Google Maps is pretty good at helping you to figure out how to get to your destination. Let's do the same search on Google maps.
First, go to https://www.google.ca/maps and click on the blue directions arrow to tell Google you are looking for directions:
Next, start typing in your start point: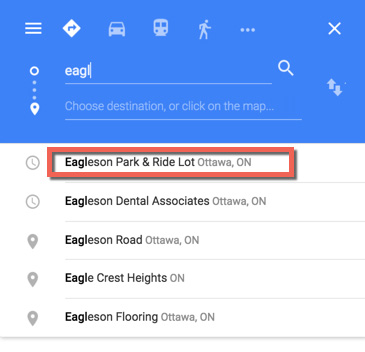 And then your destination:
Now click on the bus/train icon to say that you want transit routes:
Google tells us that Route 92 will get us there in 36 minutes. You can also choose a different leaving time. Google also tells us how often the bus leaves which is helpful:
You can get more detailed information by clicking on Details:
I find that Google maps is especially helpful when I have trips that involve buses AND walking. If the walking route is complicated, you can use the real-time Google Maps app on your phone and get step by step walking directions.
Park And Ride
Ottawa has over 7000 parking spots that are available in Park-And-Ride lots. Many of these lots offer free parking, but some of the extra busy ones do charge money. The OC Transpo website has a list of all of the Park and Ride Lots in Ottawa. That page will also tell you whether parking is free or paid. In some cases you can buy a Gold Permit to also be sure that you have a parking spot. However, Gold Permits tend to sell out.
Accessibility
All of OC Transpo's buses are low floor accessible which makes it easier for the elderly or physically disabled to board the bus1.
Ottawa also runs Para Transpo buses that cater to customers whose disabilities make it difficult for them to take a regular bus. Para Transpo buses can accommodate wheelchairs up to 30 inches wide by 60 inches long and scooters up to 30 inches wide by 50 inches long.
How does Para Transpo work?
In order to take an Ottawa Para Transpo Bus, you need to fill out an application. Click here to download the application form. You then need to have your doctor review and fill out part of the application. It can take up to two weeks to have your application approved.
Trips on Para Transpo need to be booked in advance by calling 613-244-7272. You can also set up regular bookings for trips that you know will happen on a regular basis. It is recommended to call one day in advance, but sometimes same day bookings can be made.
The price for using Para Transpo varies from about $2.80 per ride to $4.30 depending on the time of day. Here is more information on Para Transpo Fares. It is interesting to note that the city of Ottawa subsidizes these fares and estimates each ride costs about $363.
References
1. Ottawa Rapid Transit Information - Wikipedia.
2. OC Transpo Offers Summer U-Pass to College and University Students - Ottawa Start
3. Para Transpo Launches Booking Eligibility Reviews This Week - Ottawa Citizen September 15, 2015