Uber and Taxis in Ottawa
Need help traveling around the city? Ottawa has many taxi companies and also has great Uber service. Ottawa also has a fantastic bus system and light rail as well. You can find more information on these services here:
Buses in Ottawa
Trains in Ottawa
What is Uber?
Uber is an alternative to taxis that is becoming very popular. It is available in many cities now, including Ottawa. To use Uber, first you download the Uber app on your phone and create an account. If you don't have an Uber account yet, we have an invite code that will allow you to have your first ride (up to $25) for free:
Sign up for Uber and get your first ride free.
Next, you add your payment information. This can be either a credit card or a Paypal account. You also enter in how much you would like to tip each driver. (This can be changed for an individual trip if you'd like.) That way, there is no need to carry extra cash with you for tipping.
To order an Uber, open the app and enter your destination. The app is usually pretty good at figuring out where you currently are and will likely set that as your pickup place. Uber will give you an estimate as to how long it will take for a driver to get to you: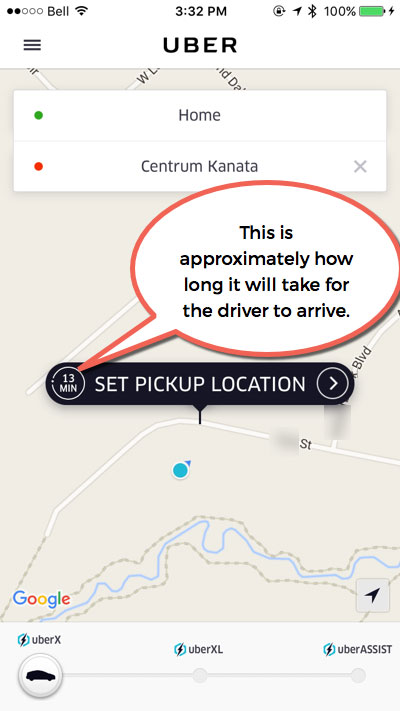 Note: We are in the country, outside of Ottawa, so it's going to take 12 minutes for a driver to get here. But still, given how far out we are, I'm amazed that Uber will drive this far to get us.
Sometimes you may notice something called Surge pricing. If the demand for Ubers is higher than the current number of Uber drivers can provide, then surge pricing will be in effect. Today, as I write this article, on a Sunday afternoon Uber has 1.5x Surge pricing.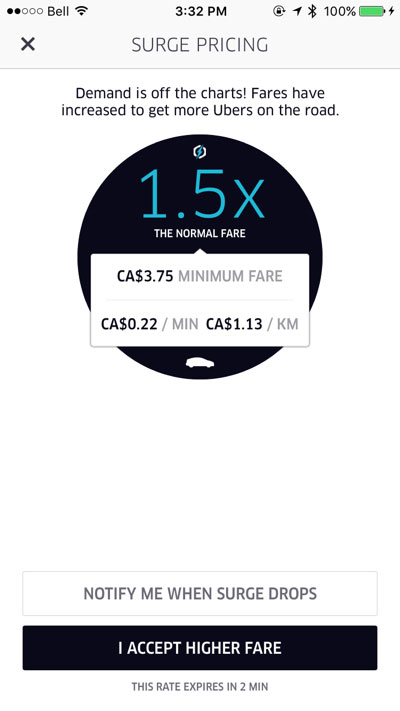 Take note of surge pricing. On some really busy nights, like New Year's Eve, or perhaps after a Senator's game has finished, the pricing could be as high as 8 times the normal rate1. But, in most cases, if there is a surge, it is not much more that 1.5x and even then, I've found that the rates are still better than getting a taxi.
You can also ask for a fare estimate. I can see now, that for my drive from out into the country, into Centrum Shopping Centre in Kanata, I'd be paying $15-20. (Without surge pricing this would be $10-13.)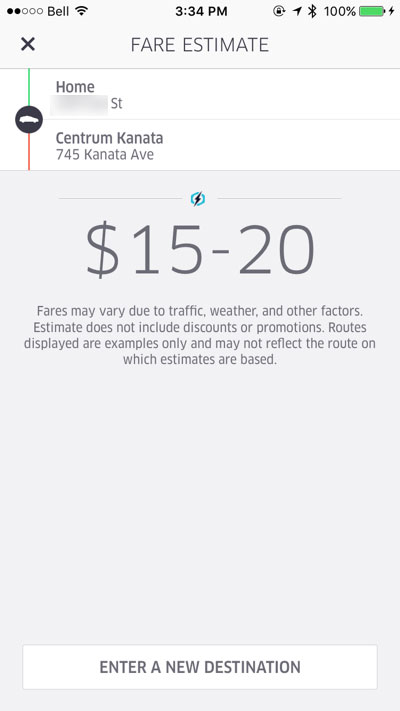 Once you request a ride, your driver will start on his or her way. You can watch in the app as they give you a map with a little car on it to tell you where your driver is at the time.
When you arrive at your destination, no payment is necessary as the fee will immediately come out of your Uber account that is connected to your credit card or Paypal account.
Is Uber Legal in Ottawa?
As is the case in most cities where Uber operates, there is a lot of tension between Uber and Taxi companies. I was shocked to find out that right now, as I write this article Uber is illegal in Ottawa! According to the CBC, as of September, 2015, Ottawa police have charged 56 Uber drivers with fines totalling $40,0002.
But, there is good news! Uber will be legal in Ottawa as of September, 20163 as city council has voted to legalize the service.
What is UberX vs XL vs black?
You have the option of ordering several different kinds of ubers. In most cases the UberX is what you want.
UberX - This is the least expensive Uber. Seats 4 riders.
UberXL - These are usually SUV's or vans and seat 6 people.
UberBlack - This is for a luxury car.
UberAccessible - Wheelchair accessible rides.
Can you get an Uber at the Ottawa airport?
At this point you can get dropped off at YOW by an Uber, but you cannot request pickup at the Ottawa Airport4. This may change once Uber is fully legalized in Ottawa in September of 2016.
Taxis in Ottawa
If Uber is not your thing, or if you are waiting until it is completely legal, there are quite a few taxi companies that operate in Ottawa:
BlueLine Taxi - (613) 238-1111 or click through to their website to download their app or order a taxi online.
Capital Taxi - (613) 744-3333 or order online or get their app on their website.
West-Way Taxi - (613) 727-0101 or order online or get their app on their website.
This website will estimate your taxi fare in Ottawa for you. Earlier in this article I found that an Uber (without surge pricing) to get me from our house out in the boonies to Kanata Centurm would cost $10-$13, or with surge pricing, $15-20. The same trip with a taxi would be likely to cost almost $24.
References
1. Uber Users Contemplate legal Action After Facing Stiff Charges - CTV News January 4, 2016 2. Ottawa's Response to Uber Compared to Cities Across Canada - CBC September 2015
3. Uber to become legal in Ottawa as of September - CTV News - April 13, 2016
4. Uber stops pickups at Ottawa International Airport - CBC - March 18, 2016.