Central Park, Ottawa
Central Park is a small but vibrant community located in Ottawa West between Merivale Road and Clyde Avenue and is predominantly English speaking. The land where Central Park is currently located used to belong to the Experimental Farm until the City bought it and developed it in the late 1990's to the early 2000's. Interestingly, all of the roads in the community are New York City themed. There are no schools or churches directly in the community but there are many available just outside.
Housing Statistics
Average house age: Most houses were built between 1997 and 2006.
Detached homes: 27% of homes are detached. 15% of homes are semi-detached. 63% of houses are row houses.
House prices - detached homes*: Recent sales vary between $450,000 to $950,000 with 22% under $500,000.
House prices - semi-detached homes*: Recent sales vary from $350,000 to $450,000 with 90% under $400,000.
House prices - row houses*: Recent sales vary from $300,000 to $400,000.

Recreational Opportunities
Central Park is a tiny community but there are still many opportunities for its residents to relax and have a good time. The community is home to several parks including Celebration Park and the smaller Alphabet Park. There is a tennis court, outdoor rink, and a sports field available for both recreational and team sports. The community is also adjacent to the Experimental Farm and the Canada Agriculture Museum. The Scouts Canada headquarters and museum are also a part of the community.
What we love about Central Park:
Central Park is located centrally in the city making it very easy to travel anywhere in the city very quickly
Every year the community rallies together to do a clothing drive to help people in the community who are in need
Where is Central Park?
Central Park is in Ottawa West.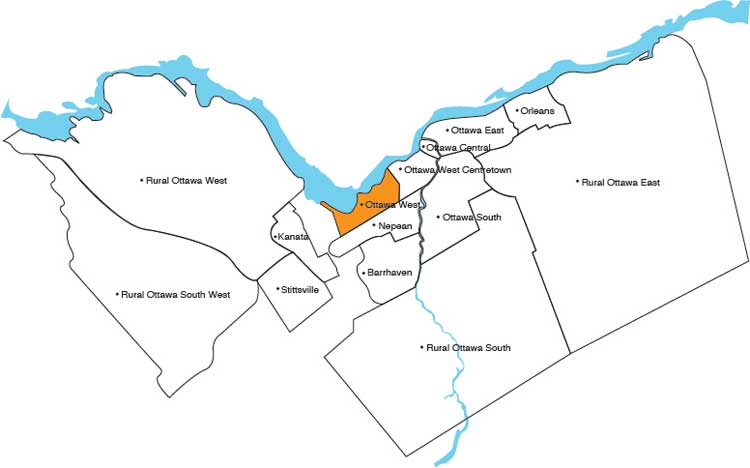 Here is a more detailed map of the area: