Bayshore, Ottawa
Bayshore Shopping Centre is a small community that is bordered by the Ottawa River, the Queensway, Doanne Street, Firwood Street, Bellfield Street, and Holly Acres Road. The majority of the population speaks English as their primary language however a little over the a third of the population speaks primarily another language other than English or French.
Housing Statistics
Oldest house: Built in 1910.
Average house age: Most houses were built between 1950 and 1990.
Detached homes: 45% of homes are detached. 55% are row and semi-detached.
House prices - detached homes*: Recent sales vary from $300,000 to $685,000 with 67% under $400,000.
House prices - semi-detached homes and row houses*: Recent sales vary from $200,000 to $470,000 with 50% under $300,000.

Recreational Opportunities
Bayshore Shopping Centre has lots of recreational opportunities and events for its residents to enjoy. In 2014 the Bayshore Community Association hosted its second Sports Festival for the community including soccer, tennis, basketball, tug of war and other events. There is also a Winters End Festival celebrating winter coming to an end and Accora Fun Days. Finally, the community runs a summer soccer program for the kids each year. There are also baseball diamonds, basketball courts, a sports field, two outdoor rinks, play structures, and a sledding hill for the everyday use and enjoyment of the residents. The neighbourhood has eight restaurants however there are no bars in the area.
Future Developments
The main issue that the Community Association is focused on is bringing more affordable sporting programs to the community. Currently there is a successful three year soccer program running and the hope is to create similar basketball and hockey programs in the community.
What we love about Bayshore:
Bayshore Shopping Centre is home to one of the largest shopping centres in the city
The community has a very dedicated Community Association that is always looking to create new opportunities for the residents to enjoy
Schools in Bayshore Shopping Centre:
Churches in Bayshore Shopping Centre:
Where is Bayshore Shopping Centre?
Bayshore Shopping Centre is in Ottawa West.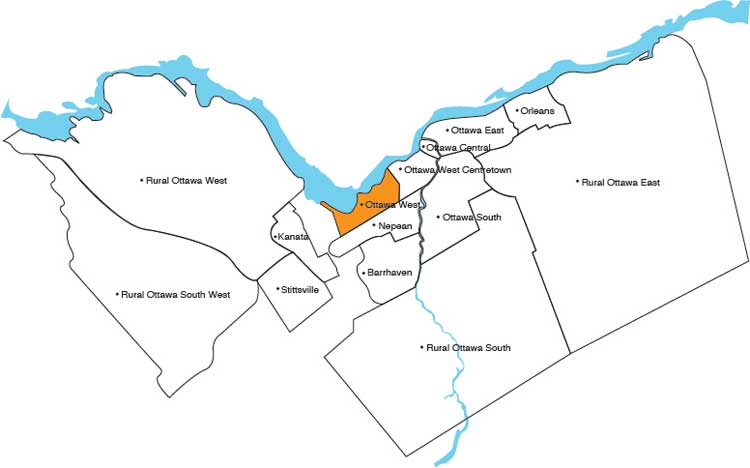 Here is a more detailed map of the area: