Blackburn Hamlet, Ottawa
The first settlers of the Blackburn Hamlet area arrived between 1803 and 1811. The area was first named Green's Creek after Robert Green who ran a sawmill along the creek. After all the trees were cleared from the area the land was sold to farmers who cleared the land and built roads themselves. The name Blackburn originates from William Bradley and Robert Blackburn who helped bring a post office to the area. Blackburn was the Member of Parliament for Russell in 1858. Many of the streets in Blackburn Hamlet are named after the people who first settled in the region including Cleroux Crecsent and Tauvette Street. In 1956 the City of Ottawa's National Capital Commission acquired the land surrounding Blackburn Hamlet and used it to establish the Greenbelt. This addition of green space surrounding the community resulted in it becoming the community it is today. The residents are mainly English speaking however almost a quarter of the population speaks French as their first language.
Housing Statistics
Oldest house:
Built in 1953.
Average house age:
Most houses were built between 1960 and 1980.
Detached homes:
69% of homes are detached. 31% are row and semi-detached homes.
House prices - detached homes*:
Recent sales vary from $300,000 to $500,000 with 38% under $400,000.
House prices - semi-detached homes and row houses*:
Recent sales vary from $265,000 to $450,000 with 61% under $300,000.
Contact us to find a home in this area or get more information.
Recreational Opportunities
There are many opportunities for the residents of Blackburn Hamlet to participate in the many different forms of recreational activities. The community has many clubs for all ages including Army Cadets, Girl Scouts, Tennis Club, Blackburn Art Group, Toast Masters, Bridge Club, Fifty Plus Club, and the Gloucester Horticultural Society. There are also many organized teams including hockey, softball, fastball, and soccer. Along with organized clubs and teams there are many other free opportunities for residents to enjoy including a baseball diamonds, basketball courts, an outdoor pool and wading pool, a tennis court, a volleyball court, a sledding hill, outdoor rinks, play structures, sports fields, a splash pad, and a skateboard park. Blackburn Hamlet is also one of few communities that is fortunate enough to have two community gardens. There is also an annual Funfair every year in June that has a midway, parade, outdoor movie and fireworks. The third annual Blackburn Hamlet Cancer Chase 5km Run/Walk was also held this year in the community.
Future Developments
Blackburn Hamlet is always looking for ways to keep their community safe and beautiful. Currently there are plans underway to renew culverts and sidewalks and to resurface roads. The unhealthy ash trees are also being removed and being replaced with new, healthy trees.
What we love about this area
The community is easily accessible to a large number of both elementary and secondary schools across all school boards
The community is surrounded by greenspace which makes it a beautiful place to live and connect with nature
Schools in Blackburn Hamlet
Churches in Blackburn Hamlet
Paroisse Catholiques Romaines-St Claude
Where is Blackburn Hamlet?
Blackburn Hamlet is in Ottawa East.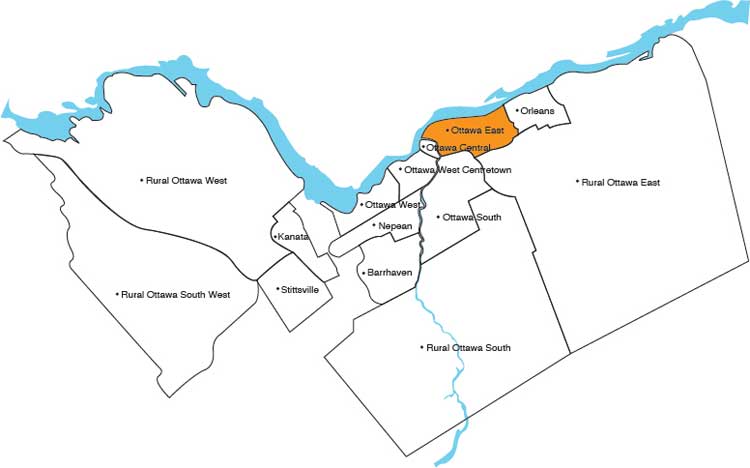 Here is a more detailed map of the area: