The Glebe and Dow's Lake, Ottawa
The community of the Glebe-Dows Lake is one of the most recognizable, affluent, and eclectic neighbourhoods in Ottawa. It was established in 1837 when most of the land still belonged to St. Andrews Presbyterian Church. In 1870 the neighbourhood was developed and the new neighbourhood was simply called The glebe which means church lands. The community is bordered by the Queensway, Queen Elizabeth Drive, Preston Street and Bronson Avenue. Almost all of the residents of the neighbourhood are English speaking but like most neighbourhoods in Ottawa there is a small population of primarily French speaking residents.
Housing Statistics for this area
Oldest house: Built in 1872.
Average house age: Most houses were built between 1900 and 1950.
Detached homes: 68% of homes are detached. 32% are row and semi-detached homes.
House prices - detached homes*: Recent sales vary from $475,000 to $1,600,000.
House prices - semi-detached homes and row houses*: Recent sales vary from $425,000 to $1,500,000.

Recreational Opportunities
The community has many opportunities for its residents to be social and enjoy themselves. Each year they hold the famous Great Glebe Garage Sale which attracts thousands of people searching for new to them treasures and household items. The community is also home to many unique boutiques, restaurants, and coffee shops. For the sports enthusiast there are baseball diamonds, sports fields, basketball courts, tennis courts, outdoor rinks, and a sledding hill. For the younger generations there are play structures, an outdoor wading pool, and a splash pad. The community is lucky to also have two community gardens for the green thumb or environmentally conscious residents.
Future Developments
The community is currently finishing up construction on Lansdowne Park. The park will officially open on August 16,2014 and will be home to a stadium, shops, children's play parks and gardens. Plans are also in place to improve the routes and biking facilities of the Glebe Neighbourhood Bikeway.
What we love about this area
The neighbourhood is one of the most affluent, famous, and eclectic neighbourhoods in Ottawa making it a highly sought after location to live and a popular tourist destination
The neighbourhood is close to Ottawa's downtown core and is located centrally in the city making it easy to commute to other areas of the city
Mutchmore Public School is the oldest public school in the city of Ottawa that is still operational
Schools and Other Education in the Glebe-Dows Lake:
Churches in the Glebe-Dows Lake:
Where is the Glebe-Dows Lake?
The Glebe-Dows Lake is in Ottawa Central.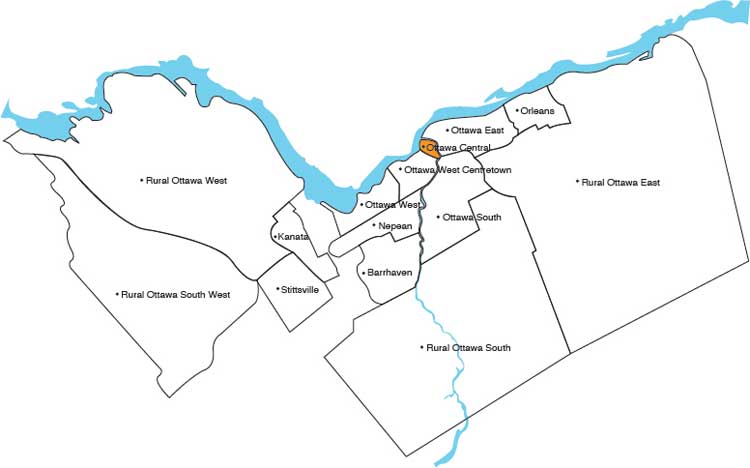 Here is a more detailed map of the area: