Katimavik, Kanata
Katimavik is one of the original communities in Kanata and was created as a way to join two areas in the City of Kanata together. The Commmunity Association was formed and received legal status in 1980. The Katimavik portion of the neighbourhood was constructed as a replica of Beaverbrook-Kanata just North of Highway 417. The original community construction centred around both sides of Castlefrank Road near McCurdy and Tamblyn Crescent and Bernier Terrace preserved the traditional identification of Hazeldean. The neighbourhood is primarily English speaking and has nineteen restaurants and eight bars.
Housing Statistics
Oldest house: Built in 1847 - next to the cemetery.
Average house age: Most houses were built between 1974 and 1994.
Detached homes: 70% of homes are detached. 30% are row and semi-detached.
House prices - detached homes*: Recent sales vary from $300,000 to $575,000 with 68% under $400,000.
House prices - semi-detached homes and row houses*: Recent sales vary from $250,000 to $415,000 with 60% under $300,000.

Recreational Opportunities
Katimavik has many opportunities for its residents to relax and enjoy life. There are an impressive nineteen restaurants and eight bars in the neighbourhood. Baseball diamonds, basketball courts, sports fields, a tennis court, sledding hills, play structures, outdoor rinks, an outdoor pool, and splash pad all give residents opportunity to be active. Each year there is a Community Skating Party at Young's Pond Park where there is a tradition of skating races. The Walter Baker Park is used every year for a Canada Day celebration that is put on by the Kanata Canada Day Inc.
Future Developments
Katimavik has several updates coming to the community. They hope to build an indoor facility where the community can come together and community events participation can be increased and regulated. The community along with other communities in the Kanata area want to create a community garage sale at the beginning of June that rivals the Glebe Garage Sale in May. Finally, the Community Association would like to create a community picnic in the future.
What the Residents of Katimavik are Saying
We asked the Community Association what they would say to someone who was thinking about moving into the neighbourhood:
Katimavik-Hazeldean is a stable community that was built on cohesiveness and self awareness thirty years ago. It is a quiet, bedroom neighbourhood thats stability allows it to gradually absorb new things.
What we love about Katimavik:
A stable and quiet bedroom community perfect for raising a family or just enjoying a quiet, slow paced lifestyle within the city
A community association that is constantly looking for opportunities to improve the neighbourhood and bring its resident closer together
There are both elementary and secondary schools in the neighbourhood
Schools in Katimavik:
Detailed information on Kanata School Zones
Churches in Katimavik:
Where is Katimavik?
Katimavik is in Kanata.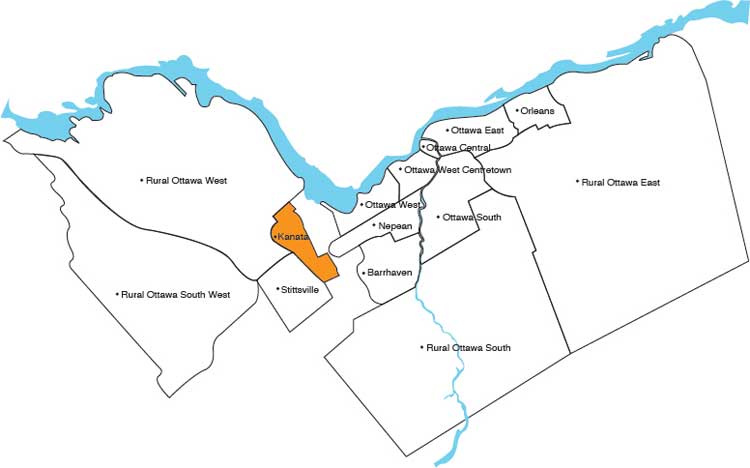 Here is a more detailed map of the area:
Prev Neighbourhood > Glencairn
Next Neighbourhood > Beaverbrook