Glencairn, Kanata
Glen Cairn is one of Kanata's oldest neighbourhood's and was established in the 1960's by Bill Teron. It was one of three neighbourhoods that Teron designed with the idea of creating three model communities with unique characteristics and commercial services. The community is almost entirely English speaking with only a very small population speaking French.
Housing Statistics
Oldest house: Built in 1960.
Average house age: Most houses are built between 1965 and 1984.
Detached homes: 48% are detached. 52% are semi-detached and row houses.
House prices - detached homes*: Recent sales vary from $275,000 to $400,000 with 24% under $300,000.
House prices - semi-detached homes and row houses*: Recent sales vary from $230,000 to $350,000 with 80% under $300,000.

Recreational Opportunities
Glen Cairn has many opportunities for recreation in both winter and summer. It has access to over two square kilometers of green space for enjoyment in both seasons. There are also biking and walking paths available for the active residents to enjoy. There are many opportunities for sports lovers to participate in many different sports activities with facilities such as baseball diamonds, sports fields, and outdoor rinks. The community also has a wheelchair accessible outdoor pool.
Future Developments
Glen Cairn is currently undergoing a stormwater pond expansion and is adding a stormwater pump station. The construction is expected to be completed in November 2014.
What we love about Glen Cairn:
The Glen Cairn community has an above average number of recreational facilities compared to the rest of the city.
The community has a large amount of green space and biking and walking paths for residents who enjoy being in nature.
Schools in Glen Cairn:
Detailed information on Kanata School Zones
Churches in Glen Cairn:
Where is Glen Cairn?
Glen Cairn is in Kanata.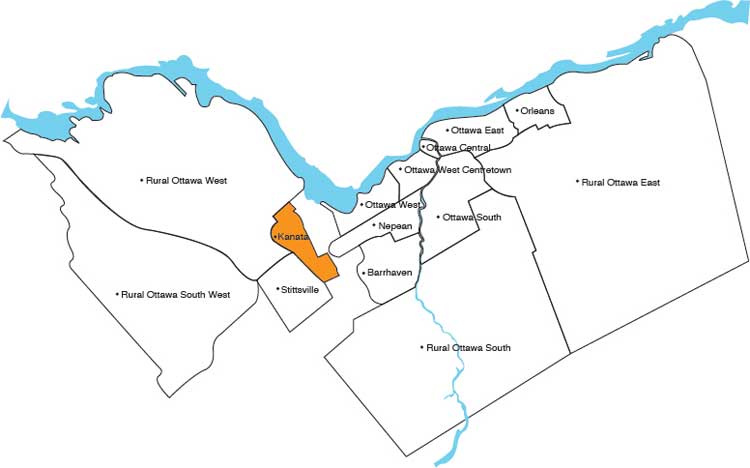 Here is a more detailed map of the area: