Little Italy, Ottawa
Little Italy has long been the first home for Ottawa's Italian residents. The community is part of Ottawa's West Centretown and is centered around Preston Street. Little Italy has a reputation for having restaurants that have top quality food and excellent customer service because many of them are family run. The area was initially settled in the early 1900's by Italian immigrants. After World War II another wave of Italian immigrants came into the area along with immigrants from Poland and the Ukraine.
Housing Statistics
Oldest house: Built in 1870.
Average house age: Most houses were built between 1900 and 1960.
Detached homes: 44% of homes are detached. 56% are row and semi-detached homes.
House prices - detached homes*: Recent sales vary from $300,000 to $600,000 with 56% under $400,000.
House prices - semi-detached homes and row houses*: Recent sales vary from $300,000 to $600,000 with 45% under $400,000.

Recreational Opportunities
Many of the recreational activities in Little Italy are centered around the Italian culture. There are many bars and restaurants scattered throughout the community that serve up delicious Italian cuisine. Each June the community hosts Italian Week, a week long celebration of Italian culture and food. The community has several parks that have sports fields, an outdoor rink, a baseball diamond, a splash pad, and a pool. Dow's Lake touches the southern border of the community and has paddle boating and canoeing available to residents and there are biking and walking paths that wind around the lake and continue into the city.
What we love about Little Italy:
The community has a reputation for its delicious food and excellent customer service.
The community will soon be home to the tallest building in Ottawa, as a new condo building is currently being built beside Ottawa's O-Train line.
Schools in Little Italy:
Where is Little Italy?
Little Italy is in Ottawa West Centretown.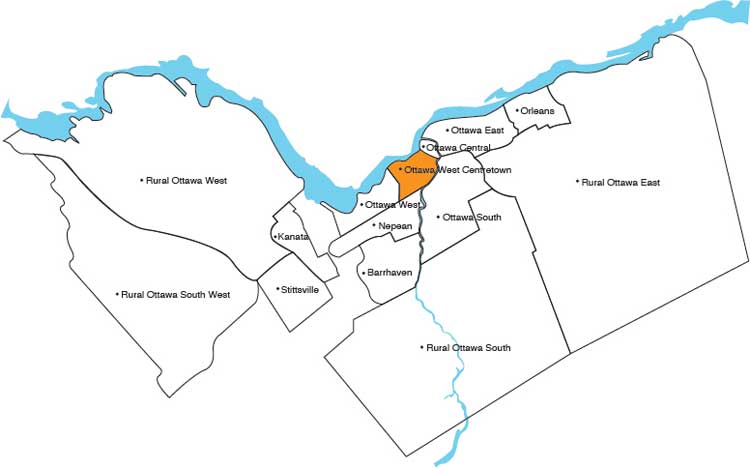 Here is a more detailed map of the area:
Prev Neighbourhood > Barrhaven
Next Neighbourhood > China Town