Chinatown, Ottawa
Chinatown is located next to Little Italy in Ottawa's West Centretown and is mainly located along Somerset Street. In 1989 the area was named Somerset Heights but was renamed Chinatown in 2005. In 2010 a beautiful archway was built over the Western entrance to the community. Although the community is called Chinatown it is home to people and businesses from many different Asian cultures including Vietnamese, Korean, and Thai. The community is mainly made up of single family homes.
Housing Statistics
Oldest house: Built in 1870.
Average house age: Most houses were built between 1900 to 1940.
Detached homes: 66% of homes are detached. 34% are row and semi-detached homes.
House prices - detached homes*: Recent sales vary from $300,000 to $520,000 with 40% under $400,000.
House prices - semi-detached homes and row houses*: Recent sales vary from $300,000 to %530,000 with 38% under $400,000.

Recreational Opportunities
Chinatown is a small community but it still has many opportunities for its residents to have a good time. The community has many restaurants from bubble tea to traditional Asian cuisine to karaoke restaurants. Each year there is a celebration and parade for Chinese New Year. Primrose Park is a small park in the community that allows residents the opportunity to enjoy open space and a little bit of nature.
What we love about Chinatown:
The community is a unique blend of Asian cultures giving the community a flare unlike any other community in Ottawa
The community is located along the transit way making it very easy for residents to travel quickly anywhere in the city
Schools in Chinatown:
Churches in Chinatown:
Where is Chinatown?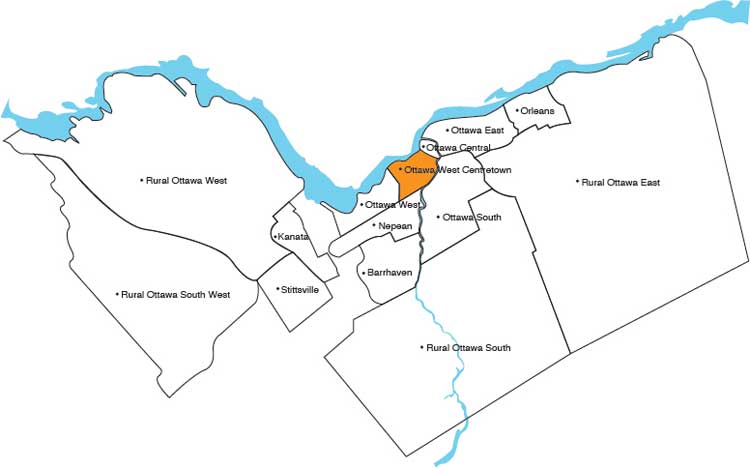 Here is a more detailed map of the area: