Ottawa Civic Hospital, Ottawa
The Civic Hospital community is named after the Ottawa Hospital's Civic Campus that is located in the community. It is also home to the widely popular Experimental Farm, Canada Agriculture Museum, and the Arboretum that borders Dows Lake and the Rideau Canal. Carleton University also resides in the community and is well-known for its engineering, humanities, international business, and public affairs programs. The neighbourhood is almost entirely English speaking but a small population speaks French.
Housing Statistics
Oldest house: Built in 1890.
Average house age: Most houses were built between 1935 and 1950.
Detached homes: 75% of homes are detached. 25% are row and semi-detached homes.
House prices - detached homes*: Recent sales vary from $500,000 to $1,200,000.
House prices - semi-detached homes and row houses*: Recent sales vary from $400,000 to $625,000 with 75% under $500,000.

Recreational Opportunities
There are many opportunities for the residents of the Civic Campus community to participate in recreational activities. There is a baseball diamond, a basketball court, an outdoor bowling lawn, an outdoor rink, sports fields, and tennis courts for the sports lovers. There is also an outdoor wading pool, play structures, and a splash pad for the younger residents of the community to enjoy. The Arboretum is a beautiful park where residents can enjoy a picnic or a walk beside the beautiful canal and Dow's Lake.
What we love about the Civic Hospital neighbourhood:
The community is home to the Ottawa Hospital's Civic Campus and the University of Ottawa's Heart Institute
The Experimental Farm and Agricultural Museum are a unique feature of the city and are not only widely popular but beautiful as well
Schools in the Civic Hospital neighbourhood:
Churches in the Civic Hospital neighbourhood:
Healthcare in the Civic Hospital neighbourhood:
Where is Civic Hospital?
Civic Hospital is in Ottawa West Centretown.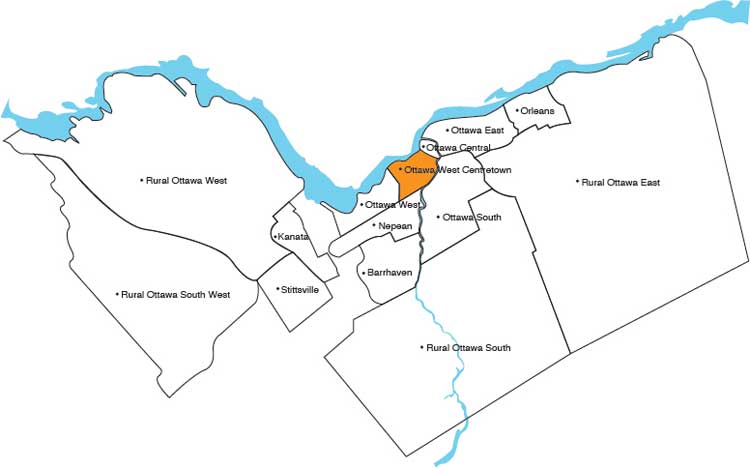 Here is a more detailed map of the area: