Downtown Ottawa
The Downtown community of Ottawa is bordered by the Ottawa River, the Rideau Canal, the Queensway and Bronson Avenue. It is mainly a business community and has financial, government, and even some technology buildings. The community is home to many famous buildings including the Parliament Buildings, the Chateau Laurier, the Supreme Court of Canada, the National Arts Centre, and the Ottawa City Hall and the Ottawa Courthouse. The community has many apartment and condo buildings but there are some older single family homes and townhouses.
Housing Statistics (for Downtown + Golden Triangle
Oldest house:
Built in 1867.
Average house age:
Most houses were built between 1890 and 1930. The 80's and 90's saw about 250 semi and row houses built.
Detached homes:
51% of homes are detached. 49% are row and semi-detached homes.
House prices - detached homes*:
Recent sales vary from $400,000 to $1,100,000.
House prices - semi-detached homes and row houses*:
Recent sales vary from $370,000 to $850,000.
Recreational Opportunities
The Downtown community may be the commercial and economic center of the city but it also has many recreational opportunities for its residents. The Rideau Canal runs through the community and provides boating in the summer and is famous for it's skating and beaver tails in the winter. Winterlude attracts thousands of people each year and features concerts, ice sculptures, and food. The National Arts Centre brings theatre and music to the community in a truly unique way. The Parliament Buildings are a popular tourist attraction and offer free tours of the inside and spectacular views from the outside. The National War Memorial of Canada is part of the community and attracts people who wish to pay their respects to the country's veterans. There are several parks scattered throughout the community that offer a break from a long day of work or a relaxing evening.
What we love about Downtown Ottawa
The Downtown community is the business centre of Ottawa meaning there are a wide range of job opportunities.
The community is home to many famous Canadian buildings including the Canadian Parliament and the Supreme Court of Canada.
Schools in Downtown:
Churches in Downtown:
St. Peter and St. Paul's Anglican Church
Where is Downtown?
Downtown is in Ottawa Central.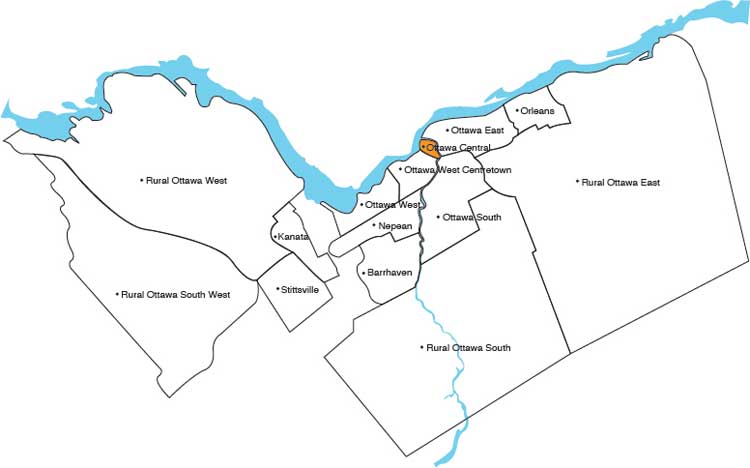 Here is a more detailed map of the area: