Sandy Hill, Ottawa
Sandy Hill is a unique, beautiful neighbourhood rich in history. The neighbourhood is situated between the Rideau River and Strathcona Park, the Rideau Canal, the Canal, and Rideau Street. It is only minutes from Parliament Hill, the Byward Market, and the University of Ottawa which makes it a very walkable and bikeable neighbourhood and an extremely convenient place to live. Sandy Hill was the once the wealthiest and most prestigious neighbourhoods in Ottawa before Rockcliffe Park. Many famous Canadians lived in the neighbourhood including former Prime Ministers Sir John A Macdonald and Sir Wilfred Laurier, Sir Sanford Fleming, Archibald Lampman, Billy Bishop, and Oscar Peterson. Sandy Hill has everything from natural beauty and a rich history to accessible amenities and lots of community programs, events, and services which makes it a great neighbourhood to live in.
Housing Statistics
Oldest house: Built in 1844.
Average house age: Most houses were built between 1900 and 1950. The 80's and 90's saw about 175 row houses built.
Detached homes: 53% of homes are detached. 47% are row and semi-detached homes.
House prices - detached homes*: Recent sales vary from $475,000 to $1,300,000.
House prices - semi-detached homes and row houses*: Recent sales vary from $350,000 to $800,000 with 26% under $400,000.

Recreational Opportunities
Sandy Hill is brimming with recreational opportunities for its residents. There are baseball diamonds, basketball courts, sports fields, an outdoor rink and a tennis court for the sports enthusiasts. Play structures, outdoor wading pools, a sledding hill, and a splash pad all offer fun for families and the younger residents of the neighbourhood. And for the green thumbed residents the neighbourhood boasts two community gardens. Sandy Hill also has many events that happen annually. The One-of-a-Kind Winter Craft Fair, the Betty Hyde Spring Fair, the Fall BBQ; the Winter Carnavale, the Hallowe'en Haunted House are some of the events that are planned and hosted by Action Sandy Hill, Sandy Hill's Community Association.
Future Developments
Sandy Hill has several exciting updates taking place. First, the Uptown Rideau Community Design Plan is being updated currently and will result in the revitalization and transformation of Rideau Street from King Edward to the Cummings Bridge in the next five years. The City's Secondary plan for the community will also be updated in the near future and is sure to impact the planning and development of the neighbourhood and will probably touch on the issue of developing Laurier Street as a tradition High Street. Somerset Street is also getting new dedicated bike lanes that will link the new bridge that is being built in Summer 2014 over the Ottawa River between Overbrook and Sandy Hill. This development will create a biking and walking corridor between Overbrook, Sandy Hill, the University of Ottawa, the canal, and all the way into the Golden Triangle. Finally, the community plans to update the Chapel Street Splash Pad which is a popular place for the neighbourhood kids.
What the Residents of Sandy Hill are Saying
We asked the Community Association what they would say to someone who was considering moving into the neighbourhood. They responded beautifully with the following:
Sandy Hill is like a small village in the middle of the Nation's Capital. There is an incredibly strong sense of community in this neighbourhood, in spite of, or perhaps because of our diversity. Sandy Hillers are rich and poor, Francophone and Anglophone (and more!), long-term residents and shorter-term dwellers, young, old and everything in between, but we get together often to celebrate our community, to engage in issues of importance regarding where we live and to contribute to making the neighbourhood, and the city, a better place to be. This is a community where people know each other's names, where neighbours share their baking and lend out their tools, where we look out for one another and look after one another. Sandy Hill is a joyful place to be.
What we love about this neighbourhood
The community is rich in history and was once home to many famous Canadians.
The community is situated in an area of the city that makes it easy to access the rest of the city, especially the downtown core.
The community boasts two community gardens which is not a normal feature of other Ottawa neighbourhoods.
Schools in Sandy Hill
Churches in Sandy Hill
St. Pauls-Eastern United Church
Where is Sandy Hill?
Sandy Hill is in Ottawa Central.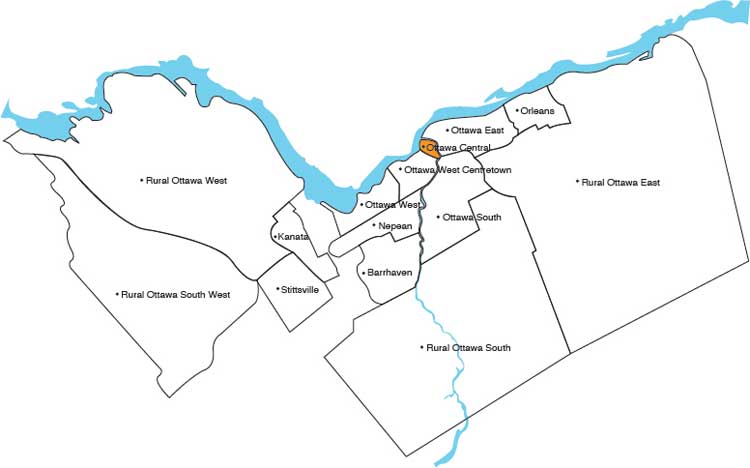 Here is a more detailed map of the area: