Golden Triangle Ottawa
The Golden Triangle is a community Central Ottawa between Elgin Street and the Rideau Canal. It is a largely residential neighbourhood with most of the homes being single family home mixed with a few condo and small apartment buildings. It is home to the Ottawa City Hall and the Elgin Street Police Station. The community is one of the oldest in Ottawa and that is obvious in its beautiful architecture and heritage buildings.
Housing Statistics for Downtown + Golden Triangle
Oldest house:
Built in 1867.
Average house age:
Most houses were built between 1890 and 1930. The 80's and 90's saw about 250 semi and row houses built.
Detached homes:
51% of homes are detached. 49% are row and semi-detached homes.
House prices - detached homes*:
Recent sales vary from $400,000 to $1,100,000.
House prices - semi-detached homes and row houses*:
Recent sales vary from $370,000 to $850,000.
Recreational Opportunities
The Golden Triangle is a small community but there are still opportunities for residents to enjoy recreational activities. The community has two parks available for family picnics or an impromptu pick up game of soccer. The Rideau Canal borders the community and provides opportunity for boating in the summer and skating in the winter. There are also biking and walking paths along the canal that continue further into different parts of the city. Finally, Elgin Street makes up the west border of the community and is affectionately know as the Sens Mile. During the hockey season, the bars and restaurants are packed with people cheering on Ottawa's favourite hockey team. (With that said, there are plenty of Leaf's fans in the city as well. :) )
What we love about this area:
The community is one of the oldest in Ottawa and has many beautiful, heritage buildings.
The community is home to the Sens Mile, the place to be when watching an Ottawa Senators game with friends.
The communities central location makes it easy to commute to anywhere in the city quickly.
Churches in Golden Triangle:
Where is Golden Triangle?
Golden Triangle is in Ottawa Central.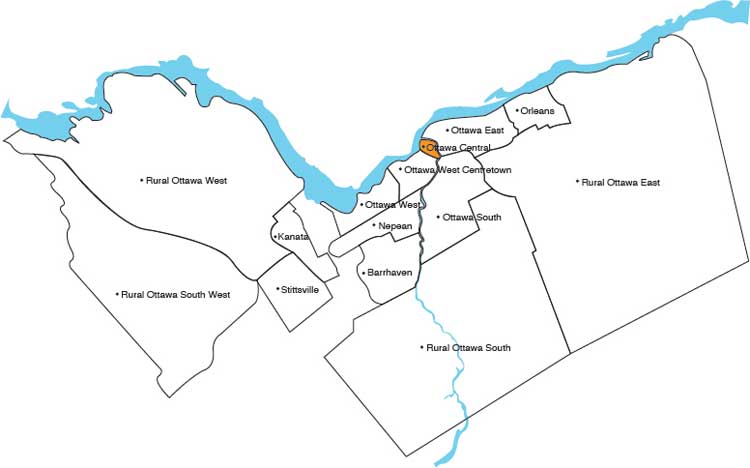 Here is a more detailed map of the area: