Findlay Creek, Ottawa
Findlay Creek is located in Ottawa South and is one of Ottawa's newest communities, with development beginning in the early 2000's. The community has large property sizes, wide streets, and parks making it a family-friendly place to live. It is a mixture of single family homes, semi-detached homes, townhouses, and small condo buildings.
Housing Statistics
Oldest house: Built in 1954.
Average house age: Most houses were built starting in 2003 and continue to be built.
Detached homes: 37% of homes are detached. 63% are row and semi-detached homes.
House prices - detached homes*: Recent sales vary from $425,000 to $750,000 with 47% under $500,000.
House prices - semi-detached homes and row houses*: Recent sales vary from $315,000 to $400,000.

Recreational Opportunities
Findlay Creek is a new community but still has many opportunities for its residents to enjoy recreational activities. There are several parks in different areas of the community that have play structures, basketball courts, and open play spaces. There is a nearby trail that runs from Leitrim Road to Osgoode and residents can use it for both biking and walking.
Future Developments
The Community Association is currently lobbying the city to improve bike paths connections for the community to make them safe enough for all ages. There is a new park and sports fields being added to the community in the near future. Finally, two elementary schools are coming to the community with the first one set to open in September 2014.
Reasons that Findlay Creek is Awesome:
Findlay Creek is a brand new community with wide streets and large property sizes making it a very family friendly community
The community is removed from the rest of the city but is still a quick drive into the city core
Churches in Findlay Creek:
Where is Findlay Creek?
Findlay Creek is in Ottawa South.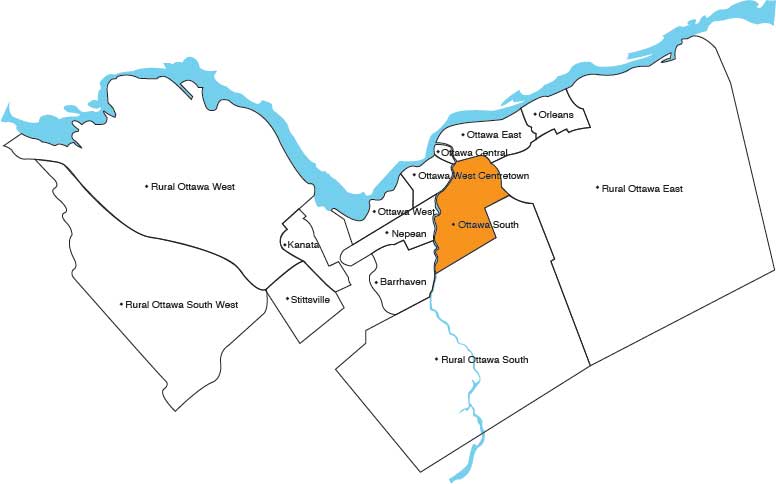 Here is a more detailed map of the area: