Ottawa Airport and Uplands, Ottawa
Uplands is a small community in Ottawa's south side between Prince of Wales Drive and Airport Parkway. The community was first settled in the early 1900's and was soon named after the private Ottawa Hunt and Golf Club that takes up a large portion of the community. It is almost an entirely English speaking community however ten percent of the community speaks another non-official language.
Housing Statistics
Oldest house: Built in 1881.
Average house age: Most houses were built between 1975 and 2006.
Detached homes: 55% of homes are detached. 45% are row and semi-detached homes.
House prices - detached homes*: Recent sales vary from $400,000 to $1,000,000 with 50% under $500,000.
House prices - semi-detached homes and row houses*: Recent sales vary from $300,000 to $500,000 with 85% under $400,000.

Recreational Opportunities
The most famous recreational facility in the community is the
Ottawa Hunt and Golf Club
that has been part of the community for over 100 years. The Club features a 27-hole golf course in the summer , six curling rinks in the winter and is considered one of the premier golf, curling, and social clubs in Canada. The community also has many other parks that have sports fields, baseball diamonds, tennis courts, and play structures for all ages to enjoy. The aviation lovers of the city enjoy a unique experience in Uplands because the community is adjacent to the Ottawa International Airport and many airplanes can be seen landing and taking off each day.
What we love about this area
The community is home to the prestigious Ottawa Hunt and Golf Club, home of world class golf and curling
The community is adjacent to the Ottawa International Airport making it a convenient home for frequent flyers and airline workers
The community is surrounded by several major Ottawa City roads making it quick and easy to travel to different parts of the city
Schools in Uplands:
Churches in Uplands:
Where is Uplands?
Uplands is in Ottawa South.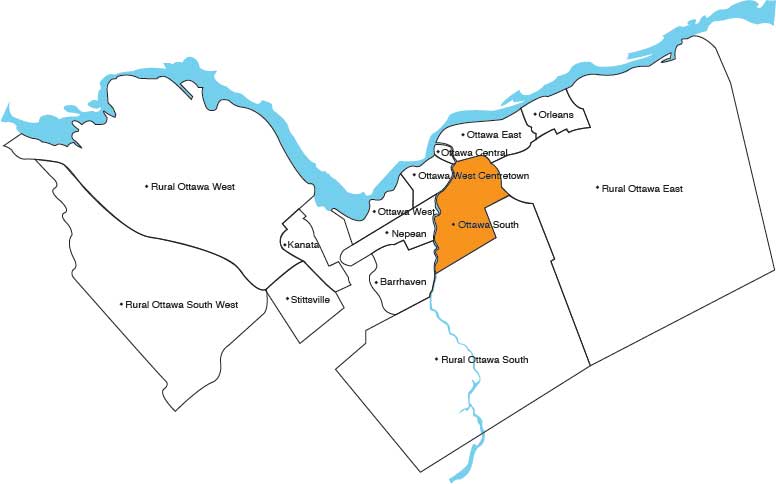 Here is a more detailed map of the area: