Lowertown and Byward Market, Ottawa
The Lowertown-Byward Market area is probably the most well known community in Ottawa. It is one of the oldest communities in Ottawa and was originally a cedar swamp that was clear cut and given an grid system layout. While the Rideau Canal was being built in the 1820s-1830s a large amount of Irish and French Canadian workers moved into the affordable Lowertown. The current layout of Lowertown is a result of the Gerber Plan, a renewal and improvement plan that was meant to accommodate growth by giving the downtown area a more practical area. This plan resulted in many people's homes being demolished in Lowertown and was stopped when people from other communities saw what happened in Lowertown. Considered to be the birthplace of Ottawa, the Byward Market was established in 1826 by Colonel John By as a large public market and public gathering area. The neighbourhood has recently made a strong effort to develop and grow its residential areas making it a commercial, residential, and industrial hub in the city.
Housing Statistics
Oldest house: Built in 1840.
Average house age: Most houses were built between 1890 and 1930. The 80's and 90's saw about 200 row houses built.
Detached homes: 23% of homes are detached. 77% are row and semi-detached homes.
House prices - detached homes*: Recent sales vary from $400,000 to $525,000.
House prices - semi-detached homes and row houses*: Recent sales vary from $260,000 to 650,000 with 45% under $400,000.


Over a quarter of the residents speak French as their primary language with the rest speaking English primarily. The neighbourhood has the largest amount of restaurants and bars in the city with an impressive 105 restaurants and 79 bars or nightclubs. This high amount of restaurants, bars, and nightclubs makes it a very popular location for people looking to enjoy themselves by dancing, discovering new foods, and hanging out with friends. Along with the food and the market the neighbourhood is home to many specialty food stores, cafes, shops, and salons.
Recreational Opportunities
The Lowertown-Byward Market community is unique to other City of Ottawa neighbourhoods. The neighbourhood is home to the ByWard Market which is Ottawa's largest indoor and outdoor market featuring street vendors selling everything from fresh vegetables and maple syrup to handmade jewelry and clothing. Every year the market draws a huge number of tourists whether school trips or family vacations. The neighbourhood is also home to the largest amount of restaurants, bars, and nightclubs which makes it a popular area for people looking to enjoy some food and drinks or go dancing. The community is fortunate to have a community garden available to its residents. There are baseball diamonds, basketball courts, an outdoor rink, sports field and a tennis court for the sports enthusiast and an outdoor wading pool, play structures, a sledding hill, and a splash pad for all ages to enjoy. Lowertown holds an annual Winterfest that includes bouncy castles, wagon rides, food, and music. Finally, the National Gallery of Canada and St. Brigid's Centre for the Arts bring art and culture to the neighbourhood.
What we love about this area
The Lowertown-Byward Market is close to downtown and there is always something happening for residents to enjoy like the bustling market, the many restaurants, or the the National Gallery of Art.
The neighbourhood is full of history and that is reflected in its beautiful buildings.
Schools in Lowertown-Byward Market
Churches in Lowertown-Byward Market
Health Care in Lowertown-Byward Market
Where is Lowertown-Byward Market?
Lowertown-Byward Market is in Ottawa Central.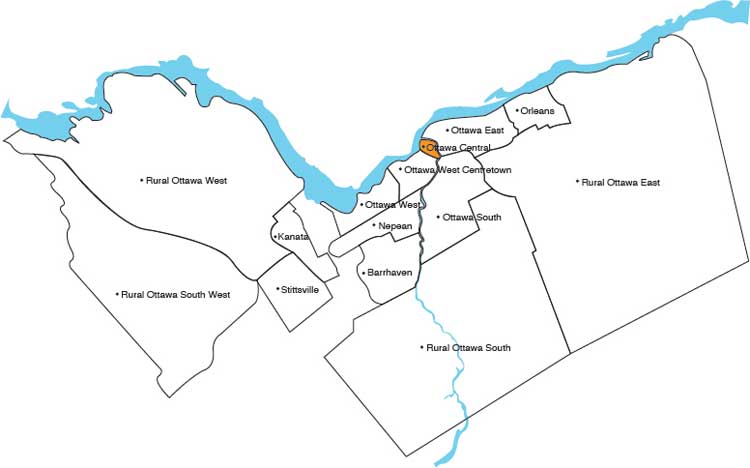 Here is a more detailed map of the area: