Manor Park, Ottawa
Manor Park is Ottawa's first post-war subdivision and was built after the Second World War. The community housing prices have increased since the community was first created but it still remains more affordable than its neighbour, Rockcliffe Park. The community is adjacent to the Canadian Police College and the Rockcliffe Airport and is a short commute to the downtown core. The neighbourhood is almost entirely English speaking but does have a small population of French speaking residents.
Housing Statistics
Oldest house: Built in 1890.
Average house age: Most houses were built between 1940 and 1960.
Detached homes: 88% of homes are detached. 12% are row and semi-detached homes.
House prices - detached homes*: Recent sales vary from $425,000 to $1,500,000 with 25% under $500,000.
House prices - semi-detached homes and row houses*: Recent sales vary from $425,000 to $475,000.

Recreational Opportunities
Manor Park has a lot of opportunities for its residents to enjoy recreational activities. It hosts a number of family friendly events each year for the community. Rock the Block takes places every September with local restaurants serving food, live music and DJ's, games, and exhibitions. The night wraps up with an outdoor movie night. There is an annual garage sale held by the Manor Park Community Council and the Manor Park Public School holds
Mayfair
which includes food,games, and lot of other great activities. Along with these events there are many other sports and recreational facilities like sports fields, play structures, a splash pad, basketball courts and many others for residents to enjoy.
Future Development
Manor Park is working with the city on developing a community plan that will address future growth strategies. This would include ways to preserve its natural surroundings while the community grows and develops.
Schools in Manor Park
Churches in Manor Park
Where is Manor Park?
Manor Park is in Ottawa East.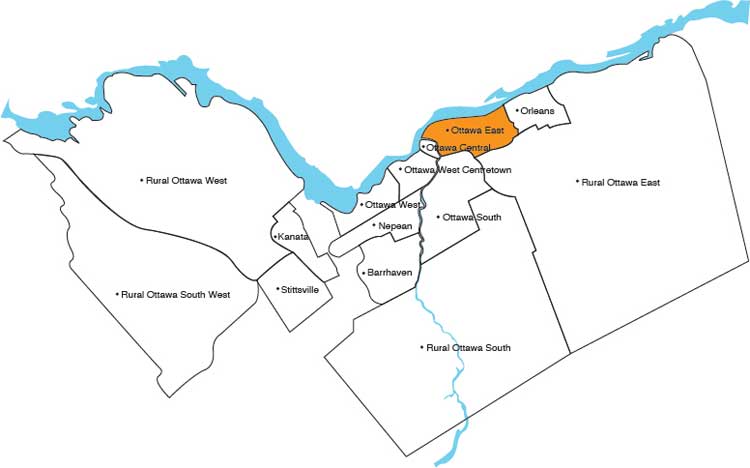 Here is a more detailed map of the area:
Prev Neighbourhood > Rockliffe Park
Next Neighbourhood > Vanier