Vanier, Ottawa
Vanier has been historically known as a French neighbourhood and while it has become more diverse in recent years it has not lost that je ne sais quoi. Although the neighbourhood has always been known for being francophone currently more of the population is English speaking but there is still a very large population of French speaking residents compared to other neighbourhoods in Ottawa.
Vanier gets its name from the former francophone Governor General Georges Etienne Vanier as a nod to the communities francophone population. The community is designed on an unique grid with meandering streets and unexpected dead ends. There are many active community groups including Vanier Beautification and the Vanier Community Association. Although it is often referred to as the poor cousin of its surrounding community, including Rockcliffe, Sandy Hill, New Edinburgh, and Lindenlea, the community remains proud and many of its francophone residents can trace their personal histories back to the community's early days of being a hub for civil servants.
In the past, Vanier has had a reputation for having higher crime rates compared to other neighbourhoods. The neighbourhood has put great effort into reducing crime levels and they have really improved.
Housing Statistics
Oldest house: Built in 1880.
Average house age: Most houses were built between 1940 and 1960.
Detached homes: 83% of homes are detached and 17% are row and semi-detached homes.
House prices - detached homes*: Recent sales vary from $215,000 to $975,000 with 27% under $300,000 and 81% under $400,000.
House prices - semi-detached homes and row houses*: Recent sales vary from $250,000 to $600,000 with 15% under $300,000 and 43% under $400,000.

Recreational Opportunities
Vanier has many opportunities for its residents to have fun and relax. There are many beautiful parks in the neighbourhood including Richelieu, Nault, and Riverrain and is one of only a few communities to have a community garden and a grotto. There is a basketball court, a volleyball court, sports fields, outdoor rinks, a bowling lawn, play structures, three outdoor wading pools, and three splash pads. There are also many festivals and events held each year including the Vanier Winter Carnival in February, the Maple Sugar Festival in March, Vanier Velofest in June, the Beechwood Solstice Stroll, and the Fete de la St-Jean. Vanier is also home to Ottawa's only urban sugar shack.
Future Developments
Vanier has recently invested or has scheduled investments of $795 million into their community according to the Quartier Vanier BIA. A new condo project on Beechwood Avenue will bring many new residents into the area and the street level shops that will come with that development will add great restaurants and shops in the area.
What the Residents of Vanier are Saying
We asked the Community Association what they would say to someone considering moving into the neighbourhood and they responded by saying
If you want proximity to downtown, affordable housing, diversity and a great neighbourhood spirit - Vanier is the place for you!
What we love about this area
Vanier has many unique features including being home to Ottawa's only urban sugar shack and being Ottawa's oldest francophone community.
Vanier is very close to downtown and is located centrally in the city making it easy to get to other parts of the city.
Active community groups have Vanier's best interests in mind and are responsible for keeping the community beautiful and up to date.
Schools and Education in Vanier
Churches in Vanier
Healthcare in Vanier
Other Important Organizations in Vanier
Where is Vanier?
Vanier is in Ottawa East.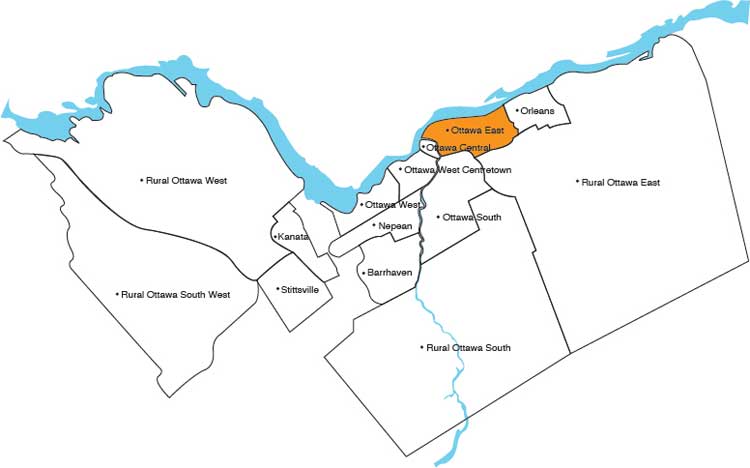 Here is a more detailed map of the area:
Prev Neighbourhood > Manor Park
Next Neighbourhood > Overbrook