South Keys Shopping Centre and Hunt Club East, Ottawa
The community of South Keys-Hunt Club is a mixture of all ages, ethnocultural backgrounds, socio-economic levels, and family set-ups. The homes in the area range from apartments, townhouses, semi-detached homes, single family homes, and Ottawa Housing. The neighbourhood is 83% English speaking with the rest speaking French or another language. The community is home to many unique spaces. The Ottawa International Airport and its hotels and convention centres is a feature exclusive to this community of Ottawa. The second largest complex of Asian markets and service is in the community. The community is also home to the South Keys Shopping Centre which is has many stores, restaurants, and a movie theatre. The area got its name from the Ottawa Hunt and Golf Club that was established as a private club in 1907 and still exists in the community today. The community also has three times the greenspace of any other community in Ottawa and that includes the Sawmill Creek wetlands and Rideau River shoreline.
Housing Statistics
Oldest house: Built in 1887.
Average house age: Most houses were built between 1980 and 2010.
Detached homes: 51% of homes are detached. 49% are row and semi-detached homes.
House prices - detached homes*: Recent sales vary from $300,000 to $1,000,000 with 31% under $400,000.
House prices - semi-detached homes and row houses*: Recent sales vary from $265,000 to $375,000 with 23% under $300,000.

Recreational Opportunities
The community is small and includes a lot of green space. There is a high amount of restaurants and bars in the community compared to others in Ottawa. Baseball diamonds, basketball courts, tennis courts, sports fields, outdoor rinks, play structures, outdoor wading pools, a skateboard park, splash pads, and sledding hills are all part of the many recreational opportunities available in the community. There is also a great community centre that allows opportunity for exercise and artistic expression. Every summer the community hosts an Asian festival that offers exquisite Asian cuisine and experience. There is also a Winter Carnival, Spring Neighbourhood Clean-up, a Canada Day Bike Parade, movie nights, and a Fall Festival every year that brings the community together.
Future Development
South Keys- Hunt Club is planning several improvements to the neighbourhood. Updates are coming to Hunt Club Creek pathways and the Airport Parkway will improve access to the neighbourhood. Finally, there are planned improvements for several of the parks in the area.
What the Residents of South Keys-Hunt Club are Saying
We asked the community association what they would say to someone who was thinking about moving into the neighbourhood. They responded by saying that it is a safe and friendly community within walking distance of many amenities. It has many great schools and other learning opportunities because of the many different and varying ethnicities and backgrounds that live in the neighbourhood. It has an active community association that looks out for the best interests of the residents. The community's location makes it easy to access all areas of the city and it is only a ten minute drive to downtown.
What we love about this area
The community has a wide range of ethnical backgrounds and family dynamics that make it an interesting, dynamic place to live
Close access to the airport making it extremely convenient for people who travel frequently
There are many different schools across all school boards
Drawbacks of Living in South Keys-Hunt Club
Being close to the airport, while convenient for travellers, can be loud and busy with the extra road and air traffic
Schools in South Keys-Hunt Club:
Churches in South Keys-Hunt Club:
Where is South Keys-Hunt Club?
South Keys-Hunt Club is in Ottawa South.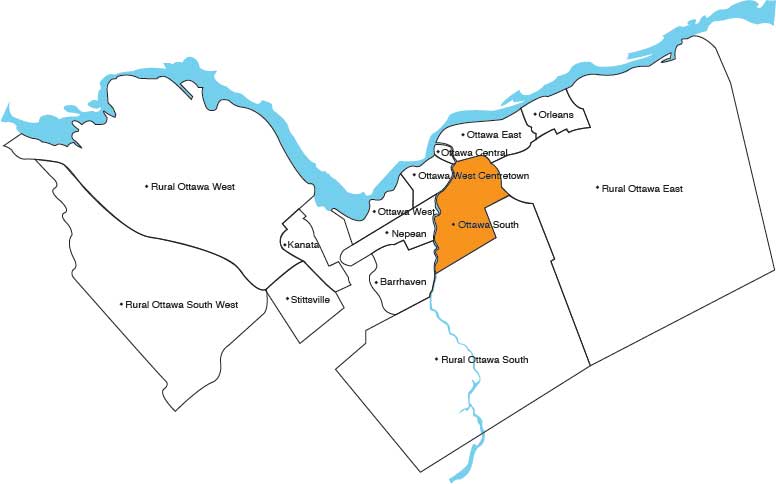 Here is a more detailed map of the area: