Overbrook, Ottawa
The community of Overbrook is bounded by McArthur Road, Highway 417, St. Laurent Boulevard, and the Rideau River. The community's location makes it unique to other communities in the city. It is within cycling distance to downtown, close to the Rideau River and its parks and bike paths, close access to public transit, including OC Transpo, VIA, and the future LRT, and there are two new pedestrian bridges being built in 2015. The neighbourhood is also incredibly diverse both architecturally and culturally and it has a wonderful community centre in the core of the community that has many programs for all ages.
Housing Statistics
Oldest house: Built in 1906.
Average house age: Most houses were built between 1940 and 1960.
Detached homes: 75% of homes are detached. 25% are row and semi-detached homes.
House prices - detached homes*: Recent sales vary from $250,000 to $600,000 with 20% under $300,000 and 88% under $400,000.
House prices - semi-detached homes and row houses*: Recent sales vary from $250,000 to $700,000 with 58% under $300,000.

Recreational Opportunities
The community has many recreational opportunities for its residents. Each year there are three large events; Family Day in February, Community Garage Sale in May, and Overbrook Community Association in August. Overbrook is one of the few communities in Ottawa that has a community garden. It also has baseball diamonds, outdoor rinks, outdoor wading pools, sports fields, tennis courts, play structures, a splash pad, and two community centres. The community also has many restaurants and bars for residents to enjoy.
Future Developments
The Overbook-McArthur Community Association monitors the neighbourhood closely and is always looking for ways to improve the community. Currently they are in the final stages of producing a Community Design Plan.
What the Residents of Overbrook are Saying
We asked the Community Association what they would say to someone who was moving into the neighbourhood and they responded by saying the community is Ottawa's best kept secret squeezed between Vanier and the Queensway.
Reasons that Overbrook is Awesome
The community is close to downtown and public transit
Close to the Rideau River and its parks and bike paths
Many options for both schools and churches in the area
Schools in Overbrook:
Saint Clement Academy
Saint Michael Elementary School
Churches in Overbrook:
Eglise Evangelique Du Nazareen
Paroisses Catholiques Romaines (Ottawa)- Saint-Sebastien
St. Ignatius Martyr Church
Where is Overbrook?
Overbrook is in Ottawa East.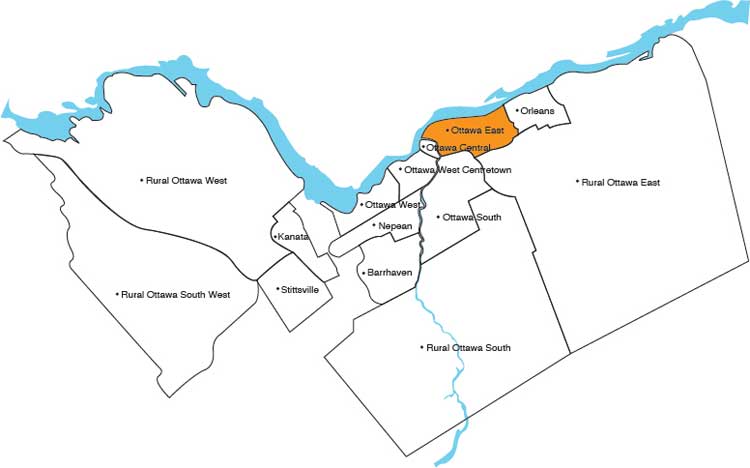 Here is a more detailed map of the area: